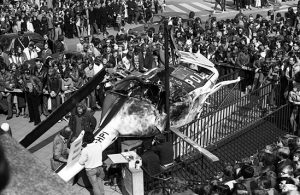 HISTORY

In the beginning of the 70's there were no professionell stuntperformers available in Scandinavia so the production companies had to contact foreign stunt performers and coordinators in order to solve their action sequences. 
Backed up by a few production companies, Johan Torén – then a 20 years old engineering student – decided to build a stunt business that in  1974 turned into Svenska Stuntgruppen (the Swedish Stuntgroup). He was also a member of the Skydiving national team and together with his technical know-how, he was very suitable for this line of work. 
In the beginning of his career, Johan recieved a lot of support, knowledge and experience from the stunt industry in Great Britain and other countries that was far more developed at the time. 


One of the first movies that Svenska Stuntgruppen worked with was "Mannen på taket" (1976) that has a few very spectacular scenes. The most famous one is the big helicopter crash at Odenplan in Stockholm. 
 A few other examples of features that Johan Torén has worked with is "Göta Kanal" (1981), "Fanny & Alexander" (1982), "Jönssonligan" (quite a few of them) and "Strul" (1988). 
 
When Seth Ericson, the current head stunt coordinator of the company, moved back from the USA and started to get established in Stockholm he was hired by Svenska Stuntgruppen on a few jobs. At this time, Johan had more or less withdrawn from the industry and pretty soon Seth was offered to take over and run the company – something that he accepted. 
 
Today the company has it's office and studios in Bromma, Stockholm.