Scai 3d Flight System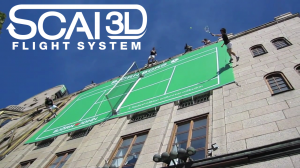 A flight system that can fly people or equipment in speeds up to  20 m/s.
We do point lifts for pure vertical movements, and 2D/3D flights to move in two or three dimensions. 
Portable flight system
One of the most commonly used equipment in our arsenal is our versatile flight system that can be assembled at almost any desired location. It reaches up to 6m high and allows us to fly an actor, performer or prop in either two dimensions, or as a single vertical point lift. 
Safety equipment and harnesses
We have a wide variety of harnesses and we can modify or create new ones.
Jerk harness

Climbing harness

Cartweel harness

Swivel Harness

Custom made harnesses
Misc Equipment
Crash mats

 

in several sizes




Truss and rigging equipment

Air bag

 

and cardboard boxes (for high falls)

Air ram

 

(Pneumatic device that catapults the performer)

Ratchet

  

(Pneumatisk device that jerks the performer in any chosen direction)